The Spawn Chunks 186: Chest Boat With Chest
Joel and Jonny pick up their ores and set sail towards the latest Minecraft: Java Edition snapshot, with extra luggage room, answer listener email about data packs and goat horns, and unpack the chest boat.
Support The Spawn Chunks on Patreon
Joel

The Citadel

The east river bank of Low Town is nearly complete! This weekends saw the completion of the roofs and outside details of all of the buildings, as well as interesting alleyways.

Interior details, paths, and landscaping are coming soon.
Jonny

The Minecraft Survival Guide, Season 2

This week has mostly been about lesser known, underused Minecraft mechanics.

Lots of things were struck with lightning, turtles have been b

red, music discs have been collected.

Oh! And, The Wither has been defeated!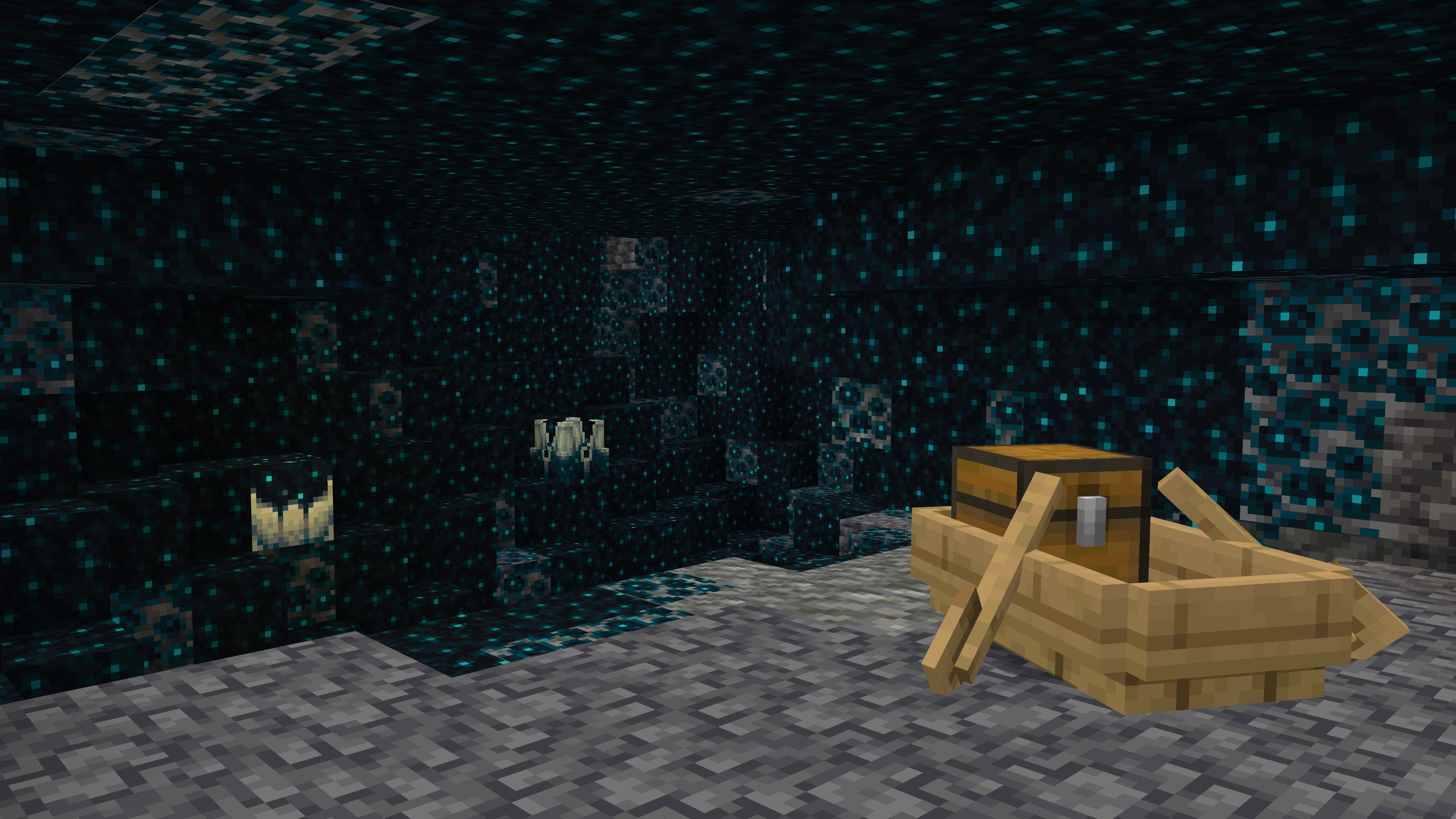 FROM: Silasbrammer
SUBJECT: Peaceful Mode Data Pack
Hi, Jonny and Joel! 
I was recently listening to Episode 184 and your discussion about Peaceful mode, and I wanted to tell you about a data pack from CodeMouse92 called No Monster Minecraft that makes it possible to play Easy, Normal, and Hard Survival difficulty without mobs. I used to play exclusively in Peaceful mode, but now I rarely ever play without the data pack. CodeMouse92 also has another data pack that adds mob drop recipes for Peaceful mode players. 
Silasbrammer was killed by a wolf named "Boredom".
FROM: AdHawk1
SUBJECT: Horns And Sculk Sensors
Dear Pix and Joel, 
With the addition of skulk sensors, wireless redstone signal transmission has been made possible. With the even more recent addition of goat horns and copper horns, I couldn't help but wonder if the horns could be used somehow as a passcode for a hidden entrance. I know that they are intended primarily as a social feature in the game, but why not add more fun things you can do with them?
My suggestion is simple and twofold. Goat horns should trigger skulk sensors (If they don't already.) and skulk sensors should output different redstone signal strengths when exposed to different goat horn sounds. (Okay, maybe it's not all that simple.) Obviously, there are many goat and copper horn noises and only fifteen redstone signal strengths, but how cool would it be if you and a friend set up a system where to access your shared secret base, you needed to play multiple sounds from a specific horn or two in the right order? 
Maybe I watch too much MumboJumbo. I'm no redstone genius and I don't know how much I would personally use this feature. I just can't help wanting to see someone smarter and more Minecraft-savvy than me make a cool-looking secret base that requires trumpet playing to get in. It would make amazing YouTube content if nothing else. 
Love the show! Thank you guys for recording every week. 
AdHawk1 was slain by Enderman outside his front door because he was busy looking up skulk sensor mechanics on the Minecraft Wiki.
Boaty McChesterson & The Waterlogged Leaves
Joel and Jonny save the boat-iest bit of news for last this week, and pop the trunk on the first look at chest boats (with chests) in Java Minecraft, discussion everything from loading, unloading, hopper interaction, and potential users in automation down stream.